Burlington Animal Clinic - Home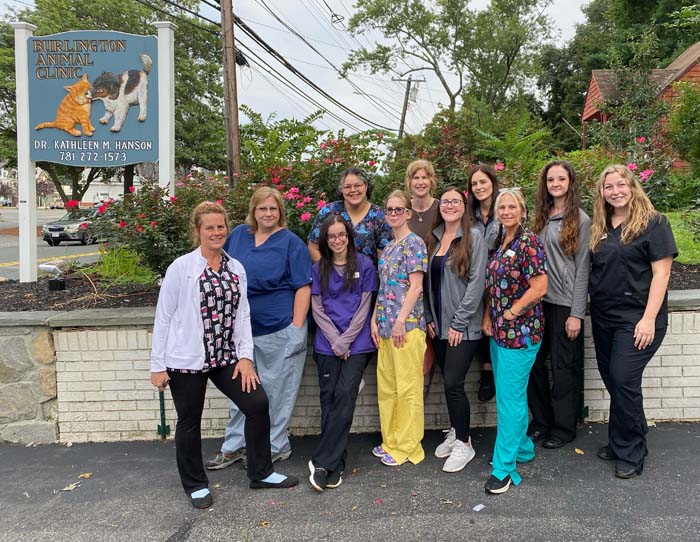 Burlington Animal Clinic is located in Burlington, MA. We are open six days a week for wellness and sick appointments. To better serve clients, we have evening appointments available one night a week, and also offer house call services. We primarily treat dogs and cats; however, we are willing to see the occasional pocket pet (hamster, guinea pig, turtle, etc.) as well.
We are equipped for surgery, as well as routine appointments. The clinic has modern equipment, including a brand-new dental machine, digital radiology, anesthetic monitoring equipment, and fluid pumps.
The clinic has been in operation since 1964, and is currently owned and operated by Dr. Kathleen Hanson.
Our goal is to provide quality care and excellent client education. The best way to maintain your pet's health is to make sure that you, the pet owner, are aware of things to watch for at home. We look forward to working with you and your pet.
As of Labor Day 2023, we are no longer open on Saturdays.
This decision has been a difficult one. Unfortunately, Dr. Hanson is having to go out of town frequently to help care for a family member. Also, we have been having difficulty finding enough staff to continue Saturday hours.
We will be offering 8:30am appointments on Thursdays and Fridays, and are also open late on Wednesday nights for people unable to come in during regular hours.
We greatly appreciate you choosing the Burlington Animal Clinic for care, and apologize for any inconvenience this may cause.
We provide the following services:
Routine (healthy pet) appointments
Sick appointments
Exotic pet appointments
Soft tissue surgery
Cryosurgery (no sedation needed for most pets)
Dental cleaning and extractions
Acupuncture
House calls

Routine or sick appointments
End of life care
Like us on Facebook.