Staff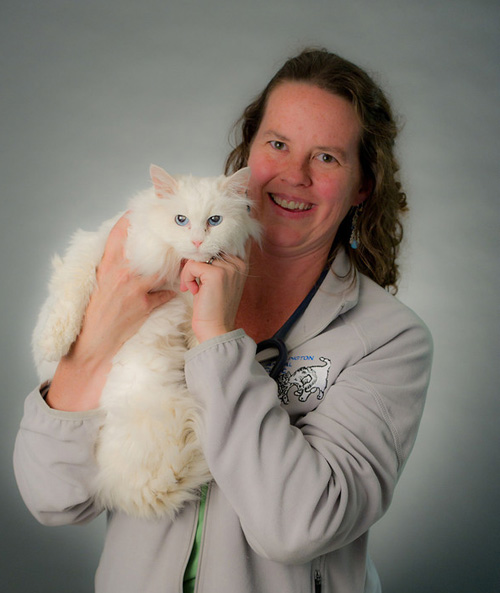 Dr. Kathleen Hanson
Veterinarian/Owner
Dr. Hanson grew up in Hawaii, where she attended Punahou School (the same school as President Obama). After graduation, she obtained a BS in Biology from Cornell University and then a DVM from the University of California, Davis. She went on to complete a one-year rotating internship in small animal medicine and surgery at Garden State Veterinary Specialists in New Jersey.
Since then, she has worked at a number of clinics, including: New Haven Central Hospital (New Haven, CT); VESCONE (Waltham, MA); Woburn Animal Hospital (Woburn, MA); and Dr. Wolf's Animal Medical Center (Dedham, MA). She was also an adjunct clinical instructor at Tufts University School of Veterinary Medicine from 2003-2009, teaching a section of their problem based learning (PBL) class. She lives locally in North Woburn with her husband, daughter, dog, and four cats, and is very excited to be working close to home. In her free time, she competes with her border collie in dog agility. Dr. Hanson is particularly interested in managing internal medicine cases.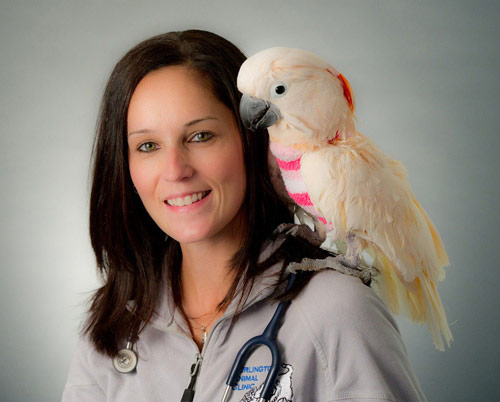 Colleen Stokes-Lilley
Head Technician
Certified Veterinary Technician
Colleen graduated from Wilmington High School as a valedictorian, and earned her bachelor's degree in biology at Tufts University. She has always had a passion and love for animals, which sparked her career in veterinary medicine. She currently has four cats (Twist, Remi, Olaf, and Angel), a ferret (Annie), a ferret, two parakeets, a hamster, and a Great Dane (Xander). She has worked in the field for over twelve years, and has worked at both the Woburn Animal Hospital and the Veterinary Emergency and Specialty Center of New England. Colleen focuses on establishing a comfortable and calm environment for both the clients and the pets. Her professional interests include small animal dentistry and internal medicine.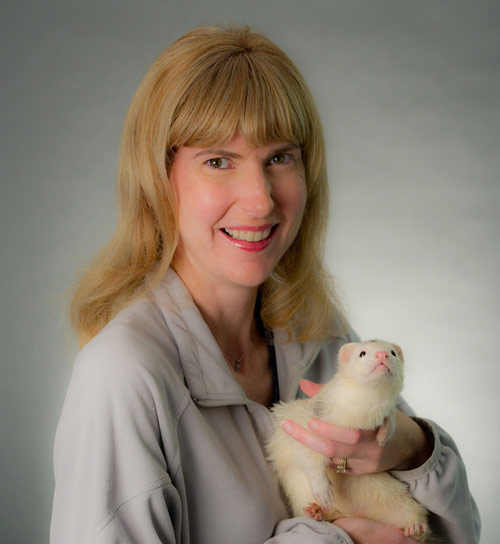 Carolyn Zuena

Receptionist
Carolyn grew up in Lexington and earned her BA from Regis College in Weston. After graduation, she obtained her paralegal certification, and worked for nearly two decades for various law firms around Boston. She made a career change, and is excited to be working with animals full-time. In her spare time, Carolyn volunteers for local greyhound placement organizations. She and her husband John have adopted several former racing greyhounds; they currently have two named Rollie and Sheena. She has a passion for finding homes for retired racers and hound crosses.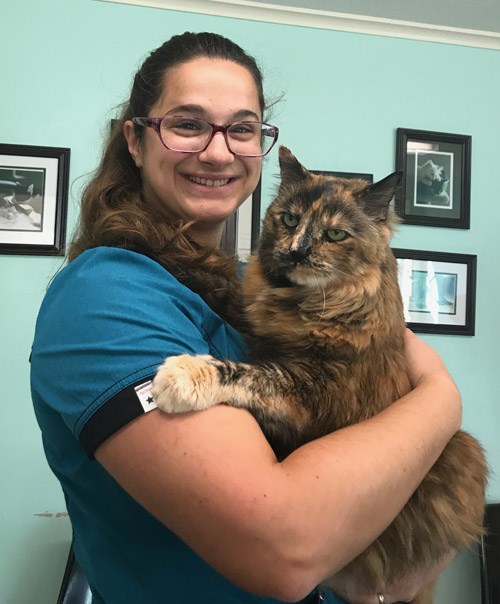 Lea Johnston

Technician
Lea grew up in Wilmington, MA and always knew that she would have a career with animals. She attended Essex Agricultural and Technical High School, where she studied in the companion animal and pet shop management program. She worked her senior year at a local training and dog daycare facility through her high school's co-op program, and continued to work there for several years after graduation. She took classes and graduated with a certificate in the pet professional program at NSCC. She then managed the equine program at a summer camp in Maine; while there, she managed the herd of camp horses and taught riding lessons and horse care. She now lives in Wilmington with her husband (Matthew), her three cats (Ravioli, Struffoli, and Ziti), and their four dogs (Hallelujah, Bishop, Brier, and Talia). She also co-owns a mammoth donkey named Abraham, who lives in Iowa with a friend.
Bethanie Murphy

Technician
Bethanie grew up in Tewksbury, MA and she went to the University of New Hampshire, graduating with an associate's degree in Animal Science with a companion animal concentration. She lives with her brother, his wife, two nieces, and 5 dogs: a Rottweiler named Mac, a Rottweiler/Pit mix named Zoe, a Catahoula/Shepherd mix named Mya, a Puggle named Jacob, and her own dog Mace, a St. Martin potcake that she rescued when she was just 6 weeks old! This is her first job out of college in a clinic, but she has worked with animals prior to Burlington Animal Clinic as a dog walker, dog daycare attendant and a groomer's assistant. She is excited to be involved in surgeries and getting to know all of our wonderful patients!
Ashley Byrne

Technician
Ashley went to an online Animal Behavior college to become a certified vet assistant. She lives in Woburn, MA with her parents, her brother, and his dog Zizi. Her love of animals began with her German Shepherd she had as a puppy named Martina who lived to be 14 years young! She enjoys Netflix and retail therapy in her down time, as well as taking strolls around Horn Pond. She aspires to learn more about neurology, as well as anatomy and physiology of the species that she works with every day!
Makayla Berg

Technician
Makayla recently moved to Haverhill, MA, where she lives with her fiance Adam, her cockatoo Caribe, her greyhound Frank and her chiweenie Kiyo. She went to Becker College to study veterinary technology and graduated with an associate's degree. After working at a 6-doctor practice for a year and a half, she wanted to experience a more personal clinic setting and refine her skills. She is very artistic, and she enjoys practicing her makeup and painting skills in her free time.