259A Cambridge St.
Burlington, MA 01803
(781) 272-1573
Directions
Hours of Operation:
Monday 8:30 - 5:00
Tuesday 8:30 - 5:00
Wednesday 8:30 - 8:00
Thursday 8:30 - 5:00
Friday 8:30 - 5:00
Saturday 8:30 - 1:00
Staff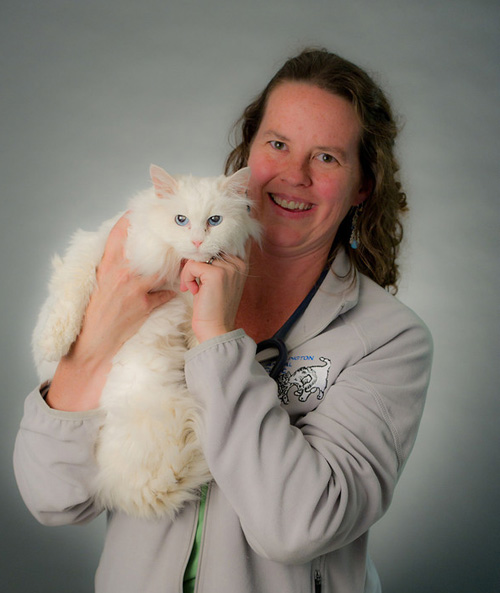 Dr. Kathleen Hanson

Veterinarian/Owner
Dr. Hanson grew up in Hawaii, where she attended Punahou School (the same school as President Obama). After graduation, she obtained a BS in Biology from Cornell University and then a DVM from the University of California, Davis. She went on to complete a one-year rotating internship in small animal medicine and surgery at Garden State Veterinary Specialists in New Jersey.
Since then, she has worked at a number of clinics, including: New Haven Central Hospital (New Haven, CT); VESCONE (Waltham, MA); Woburn Animal Hospital (Woburn, MA); and Dr. Wolf's Animal Medical Center (Dedham, MA). She was also an adjunct clinical instructor at Tufts University School of Veterinary Medicine from 2003-2009, teaching a section of their problem based learning (PBL) class. She lives locally in North Woburn with her husband, daughter, two dogs, and four cats, and is very excited to be working close to home. Her border collie competes in agility and is also a licensed therapy dog. Dr. Hanson is particularly interested in managing internal medicine cases.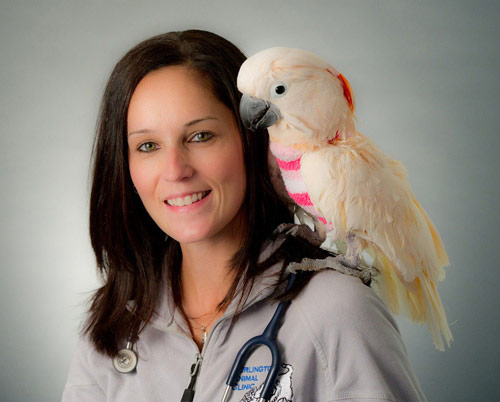 Colleen Stokes-Lilley
Head Technician
Certified Veterinary Technician
Colleen graduated from Wilmington High School as a valedictorian, and earned her bachelor's degree in biology at Tufts University. She has always had a passion and love for animals, which sparked her career in veterinary medicine. She currently has three cats (Twist, Remi, and Olaf), a ferret (Annie), a rabbit (Mr. B), and a Great Dane (Xander). She has worked in the field for over twelve years, and has worked at both the Woburn Animal Hospital and the Veterinary Emergency and Specialty Center of New England. Colleen focuses on establishing a comfortable and calm environment for both the clients and the pets. Her professional interests include small animal dentistry and internal medicine.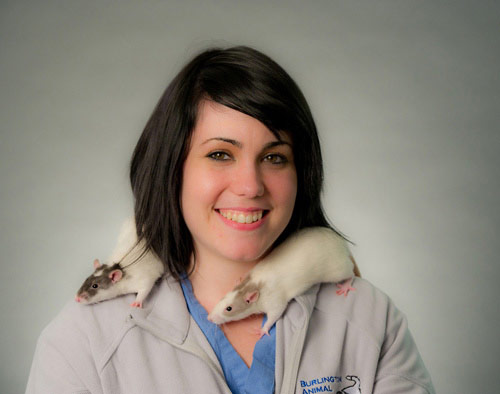 Andrea Collins

Technician
Andrea is originally from Derry, New Hampshire, and is currently enrolled in a program for Psychology and Criminal Justice at Mount Washington College in Salem, New Hampshire. While working at her previous job at Petsmart, Andrea realized that she has a strong desire to work with animals. This is her first time working at an animal clinic, and she hopes to one day direct her schooling towards a career with animal care. Her interests include exotic animal medicine and virology. Andrea currently lives in Rowley with her few ferrets, two rats, hedgehog, fiance, and son.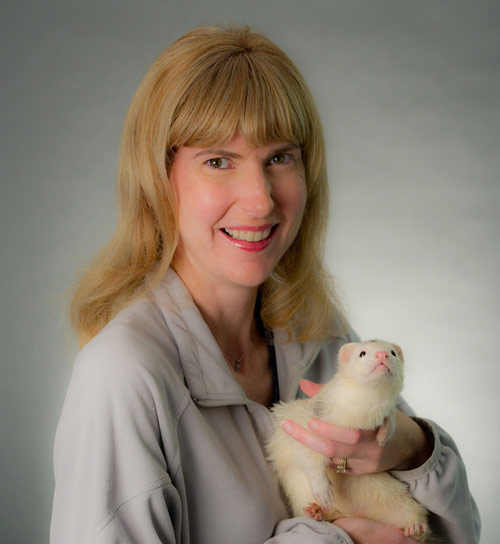 Carolyn Zuena

Receptionist
Carolyn grew up in Lexington and earned her BA from Regis College in Weston. After graduation, she obtained her paralegal certification, and worked for nearly two decades for various law firms around Boston. In her spare time, Carolyn volunteers for Greyhound Friends in Hopkinton. She recently made a career change, and is excited to be working with animals full time. She currently has two greyhounds (both rescued racers), Johnny B and Cella. She has a passion for finding homes for retired racers and hound crosses.
Lisa Hollis

Receptionist
Lisa grew up in Derry, New Hampshire, in a home filled with cats, dogs, guinea pigs, and a rabbit. She holds degrees in radiologic technology, biotechnology, and microbiology from Northern Essex Community College and Notre Dame College.
After a long career in human health care, she is excited to be switching to animal medicine and care. Lisa currently lives with her boyfriend (Richard), their two dogs (Eli and Sassy), and a cat (Leonard).
Richelle Miller

Technician
Richelle grew up in Burlington and graduated from Burlington High School. She earned her Bachelor's degree in graphic design at Curry College. While working at her previous job walking dogs, Richelle realized her passion for working with animals. She is currently enrolled at Penn Foster University in the veterinary technician program. She lives in Burlington with her puggly, Tuukka.
Brittany Lane

Technician
Brittany grew up in Malden in a home always full of animals. She earned a bachelors degree from Umass Boston in Environmental Science and is currently enrolled in school to pursue a Nursing Degree as well as enrolled in Yoga Teacher Training.
While working at PetSmart as a Hotel/Daycare Manager she realized that she absolutely loved working with animals and wished to pursue animal care further. It has always been a dream of hers to work in a vet clinic and she is very excited to be a part of the staff! At home she has a white shepherd named Beau and two bunnies named Holly and Brody that she loves very much!