Staff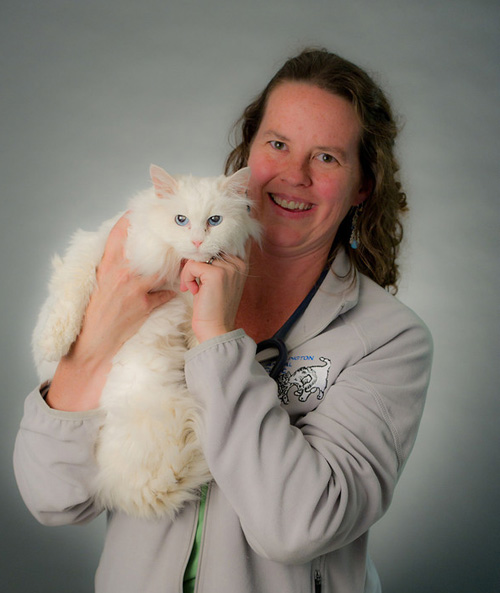 Dr. Kathleen Hanson
Veterinarian/Owner
Dr. Hanson grew up in Hawaii, where she attended Punahou School (the same school as President Obama). After graduation, she obtained a BS in Biology from Cornell University and then a DVM from the University of California, Davis. She went on to complete a one-year rotating internship in small animal medicine and surgery at Garden State Veterinary Specialists in New Jersey.
Since then, she has worked at a number of clinics, including: New Haven Central Hospital (New Haven, CT); VESCONE (Waltham, MA); Woburn Animal Hospital (Woburn, MA); and Dr. Wolf's Animal Medical Center (Dedham, MA). She was also an adjunct clinical instructor at Tufts University School of Veterinary Medicine from 2003-2009, teaching a section of their problem based learning (PBL) class. She lives locally in North Woburn with her husband, daughter, dog, and four cats, and is very excited to be working close to home. In her free time, she competes with her border collie in dog agility. Dr. Hanson is particularly interested in managing internal medicine cases.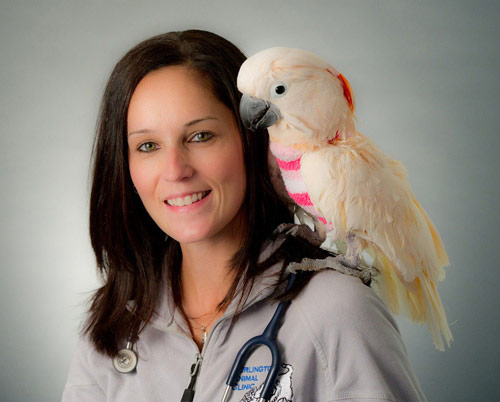 Colleen S.
Head Technician
Certified Veterinary Technician
Colleen graduated from Wilmington High School as a valedictorian, and earned her bachelor's degree in biology at Tufts University. She has always had a passion and love for animals, which sparked her career in veterinary medicine. She currently has one dog (Xander), four cats (Twist, Angel, Olaf, and Ghillie), two bunnies (Apple and Peach), and three parakeets (Joy, Faith, and Love). She has worked in the field for over twelve years, and has worked at both the Woburn Animal Hospital and the Veterinary Emergency and Specialty Center of New England. Colleen focuses on establishing a comfortable and calm environment for both the clients and the pets. Her professional interests include small animal dentistry and internal medicine.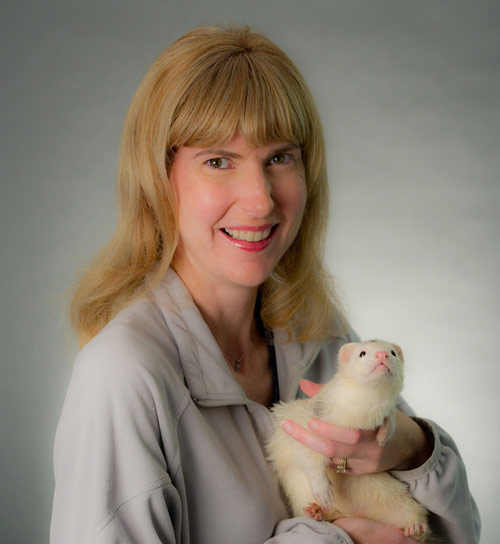 Carolyn Z.

Office Manager
Carolyn grew up in Lexington and earned her BA from Regis College in Weston. After graduation, she obtained her paralegal certification, and worked for nearly two decades for various law firms around Boston. She made a career change, and is excited to be working with animals full-time. In her spare time, Carolyn volunteers for local greyhound placement organizations. She and her husband John have adopted several former racing greyhounds; they currently have two named Rollie and Sheena. She has a passion for finding homes for retired racers and hound crosses.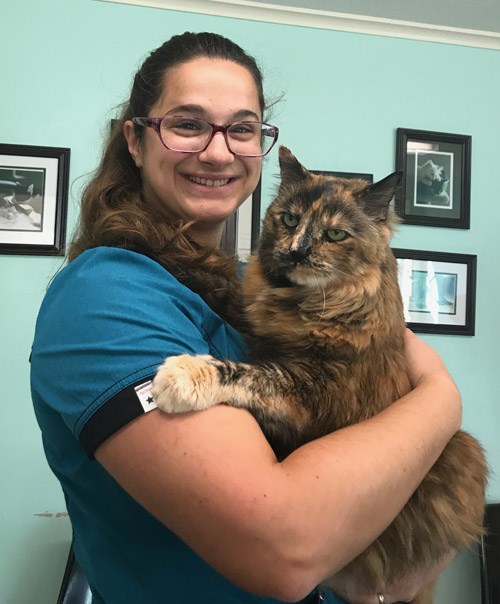 Lea J.

Practice Manager
Lea grew up in Wilmington, MA, and always knew that she would have a career with animals. She attended Essex Agricultural and Technical High School, where she studied in the companion animal and pet shop management program. She worked her senior year at a local training and dog daycare facility through her high school's co-op program, and continued to work there for several years after graduation. She took classes and graduated with a certificate in the pet professional program at NSCC. She then managed the equine program at a summer camp in Maine; while there, she managed the herd of camp horses and taught riding lessons and horse care. She now lives in Burlington with her husband (Matthew), her daughter (Evangeline), her three cats (Ravioli, Struffoli, and Ziti), and their four dogs (Hallelujah, Bishop, Brier, and Talia). She also co-owns a mammoth donkey named Abraham, who lives in Texas with a friend.
Nicole G.

Receptionist
Nicole grew up in Woburn, MA. She went to school for Environmental Science and Sustainability at Merrimack College. She has a full house with chickens, goats, cats and a guinea pig, who keep her very busy! She joined this field because of her love for animals and was excited to try something new. She is looking forward to meeting all the new kittens and puppies that come into our clinic.
Kristi F.

Veterinary Technician
Kristi grew up in Saugus and currently lives in North Andover with her cat Jackson. She began working with animals by doing volunteer work for MSPCA Nevins Farm and working at a dog daycare. She holds an Animal Care Degree, and has an extensive background in emergency medicine, working at both Mass Vet and BluePearl. She also has experience in general veterinary practice.
In her spare time, Kristi enjoys a wide variety of arts and crafts. She especially enjoys painting and embroidery.
Heather G.

Veterinary Technician
Heather graduated from Gordon College with a BS in Biology and a minor in English. She aspires to go to veterinary school. She enjoys exotics, and has spent some time interning at a sanctuary for tigers, lemurs, and bears, among other large carnivores. She recently finished an internship at Wild Care on Cape Cod working with non-rabies vector wildlife, including birds of prey and baby squirrels. She has a bearded dragon Pyrrhuloxia, named after a bird of the southwest.
In her spare time, Heather enjoys bird watching, running, reading, and writing.
Kaylei B.

Veterinary Technician
Kaylei went to UMaine Orno, and holds a BS in Zoology. While receiving her degree, she volunteered and interned at the Stone Zoo. She has worked with reindeer, sloths, baby crocodiles, prehensile tailed porcupines, jaguars, mountain lions and lots of other interesting animals. While receiving her degree, she volunteered and interned at the Stone Zoo. Kaylei has a four year old cat names Koala, who is from Turkey. Kaylei is very creative, and enjoys drawing, painting, crocheting, and wood working.
Marissa H.

Veterinary Technician
Marissa is from Billerica and lives with her two dogs AJ, a three year old boxer, and Miley, a nine year old chihuahua mix. She attended Shawsheen Valley Technical High School, where she studied cosmetology. After obtaining her license, she worked as a hairdresser.
Marissa has always wanted to work with animals and hopes to continue coursework towards becoming a certified veterinary technician. She worked at Countryside Veterinary Hospital in Chelmsford as a kennel attendant, where she was able to use her knowledge of dog behavior. There she not only cared for the boarding dogs, but helped assist the veterinarians in other areas such as with physical therapy appointments. Marissa's special interests include physical therapy and pet nutrition.
When she is not working Marissa enjoys spending time at her family's house on Lake Winnipesaukee. She considers the lake to be her special place. She also enjoys hiking with her dog AJ.
Sydney R.

Veterinary Assistant
Sydney grew up in Holliston MA and currently lives in Burlington. She has a degree in Graphic Design from Lesley University in Cambridge. She has loved animals since she was a child, and her family always thought she would become a veterinarian one day. Sydney states that she's the girl at the party you will find in the corner of the room saying hello to the dog. While pursuing her degree, she realized that her passion for animals could be an exciting career.
At home, Sydney spends much of her time keeping up with her kitten Cleopatra who she describes as energetic, yet a lap cat. She also loves rabbits. She has a green thumb and tends to a wide variety of houseplants in her home.
When she is not working, you will find Sydney busily working all kinds of artwork. She enjoys cross stitch, print making, and macramé.
Isabel U.

Veterinary Assistant
Isabel grew up in Woburn and went to Rollins College for Anthropology. She has always grown up around animals and currently has four cats (Indy, Goose, Scout, and Princess) and two dogs (Abby and Katia). She likes to read, hike, and bake in her spare time.