Staff
Dr. Kathleen Hanson
Veterinarian/Owner
Dr. Hanson grew up in Hawaii, where she attended Punahou School (the same school as President Obama). After graduation, she obtained a BS in Biology from Cornell University and then a DVM from the University of California, Davis. She went on to complete a one-year rotating internship in small animal medicine and surgery at Garden State Veterinary Specialists in New Jersey.
Since then, she has worked at a number of clinics, including: New Haven Central Hospital (New Haven, CT); VESCONE (Waltham, MA); Woburn Animal Hospital (Woburn, MA); and Dr. Wolf's Animal Medical Center (Dedham, MA). She was also an adjunct clinical instructor at Tufts University School of Veterinary Medicine from 2003-2009, teaching a section of their problem based learning (PBL) class. She lives locally in North Woburn with her husband, daughter, dog, and four cats, and is very excited to be working close to home. In her free time, she competes with her border collie in dog agility. Dr. Hanson is particularly interested in managing internal medicine cases.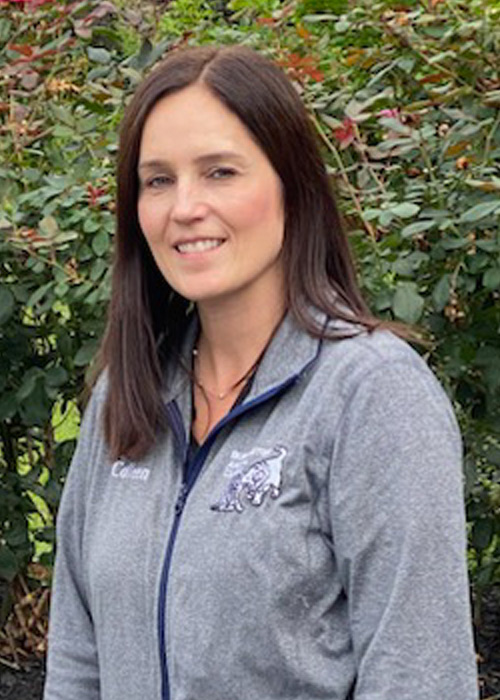 Colleen S.
Head Technician
Certified Veterinary Technician
Colleen graduated from Wilmington High School as a valedictorian, and earned her bachelor's degree in biology at Tufts University. She has always had a passion and love for animals, which sparked her career in veterinary medicine. She currently has one dog (Xander), four cats (Twist, Angel, Olaf, and Ghillie), two bunnies (Apple and Peach), and three parakeets (Joy, Faith, and Love). She has worked in the field for over twelve years, and has worked at both the Woburn Animal Hospital and the Veterinary Emergency and Specialty Center of New England. Colleen focuses on establishing a comfortable and calm environment for both the clients and the pets. Her professional interests include small animal dentistry and internal medicine.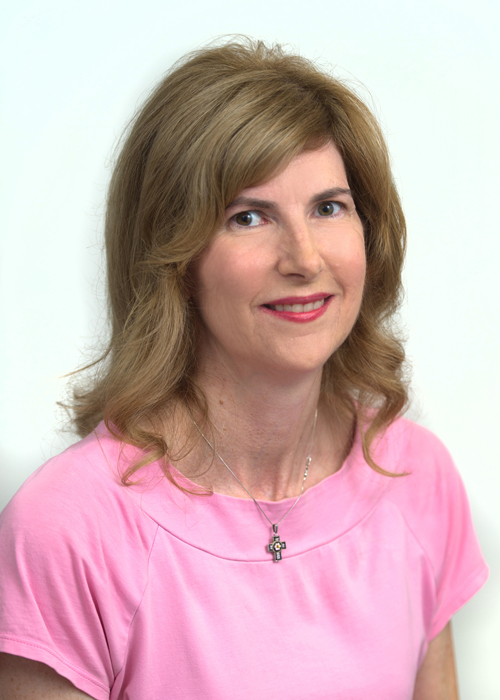 Carolyn Z.

Office Manager
Carolyn grew up in Lexington and earned her BA from Regis College in Weston. After graduation, she obtained her paralegal certification, and worked for nearly two decades for various law firms around Boston. She made a career change, and is excited to be working with animals full-time. In her spare time, Carolyn volunteers for local greyhound placement organizations. She and her husband John have adopted several former racing greyhounds; they currently have two named Rollie and Sheena. She has a passion for finding homes for retired racers and hound crosses.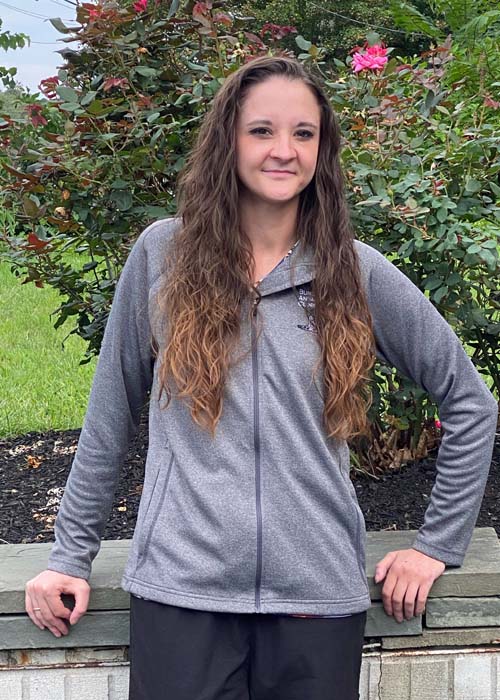 Kristi F.

Practice Manager
Kristi grew up in Saugus and currently lives in North Andover with her cat Jackson. She began working with animals by doing volunteer work for MSPCA Nevins Farm and working at a dog daycare. She holds an Animal Care Degree, and has an extensive background in emergency medicine, working at both Mass Vet and BluePearl. She also has experience in general veterinary practice.
In her spare time, Kristi enjoys a wide variety of arts and crafts. She especially enjoys painting and embroidery.
Michelle C.

Technician
Bio coming soon
Carri P.

Technician
Carri attended Essex Community College where she obtained her associate in Veterinary Technology. She worked as a technician at Danvers Animal Hospital for thirty years, and at Our Family Veterinary Services in Peabody for a number of years before joining the team at Burlington Animal Clinic.
Carri lives in Beverly with several animals. Among them are two chinese hairless dogs, a Peruvian Inca orchid hairless, a chihuahua, snakes, jumping spiders, and two parakeets. She also fosters dogs and an axototl too.
Finding homes for foster dogs is a true passion for Carri. She volunteered for the organization Villa Lobos Animal Rescue — known from the TV show Pitbulls For Parolees — for a number of years. She has placed many older dogs that were difficult to adopt out, focusing on pitbulls and chihuahuas. She has also taken in many of these dogs herself.
When not working, Carri enjoys artwork and photography. She also spends time as a wildlife rehabilitator and enjoys exotic animals. Carri especially loves jeeps and is in a jeep club called Wicked Jeeps of New England.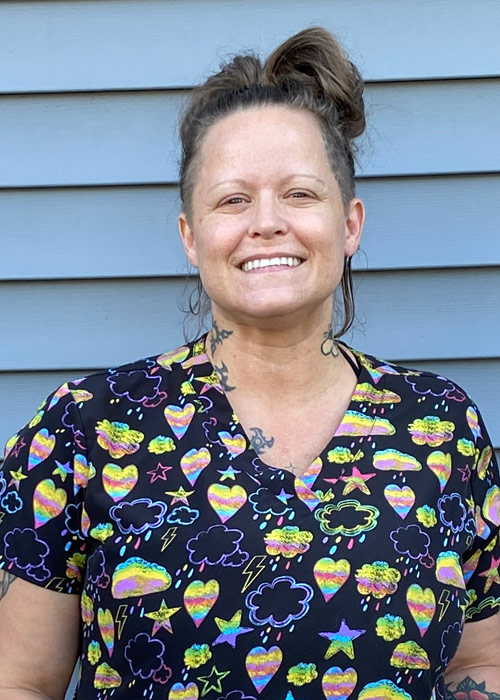 Bee R.

Veterinary Assistant
Bee grew up in Salem, NH and moved to MA in her early 20s. She has a wide range of interests, studying computer science in college before switching to interior design.
Bee was a bartender for many years and did lots of promotional work for various venues.
Growing up, Bee always had a love for animals, and would bring various sick and injured animals home to be cared for. Her childhood pet was a cat named Ziggy.
Bee currently lives in Lowell with her husband and stepdaughter. She shares her home with a Maine Coon cat and a lizard named "Gubbles."" In her spare time, you can find her watching movies on Netflix, as she is quite a movie buff.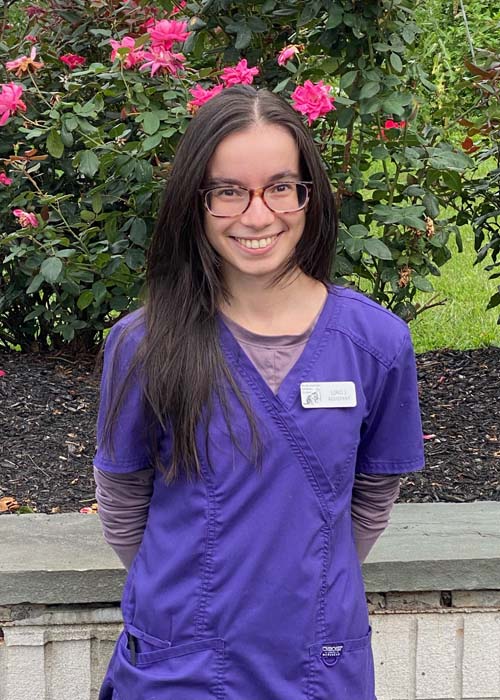 Lorig J.

Veterinary Assistant
Lorig was born in Lebanon and moved to this country with her family when she was ten years old. She lives in Burlington and attended Burlington High School. She then went on to study at U Mass Amherst. At U Mass, she obtained an Animal Science degree and a degree in pre-veterinary studies. She hopes to attend veterinary school one day, focusing on small animal practice or conservation.
Lorig loves birds and had two canaries growing up.
In her spare time, Lorig enjoys reading, and is partial to murder mysteries and fantasy novels. She also loves to watch Japanese anime.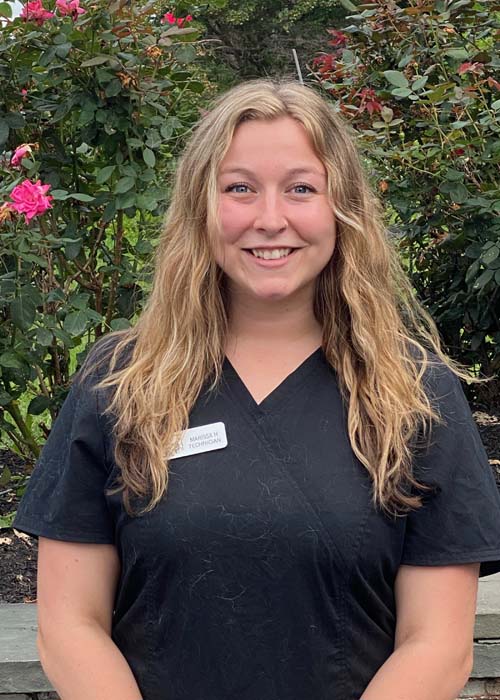 Marissa H.

Veterinary Assistant
Marissa is from Billerica and lives with her two dogs AJ, a three year old boxer, and Miley, a nine year old chihuahua mix. She attended Shawsheen Valley Technical High School, where she studied cosmetology. After obtaining her license, she worked as a hairdresser.
Marissa has always wanted to work with animals and hopes to continue coursework towards becoming a certified veterinary technician. She worked at Countryside Veterinary Hospital in Chelmsford as a kennel attendant, where she was able to use her knowledge of dog behavior. There she not only cared for the boarding dogs, but helped assist the veterinarians in other areas such as with physical therapy appointments. Marissa's special interests include physical therapy and pet nutrition.
When she is not working Marissa enjoys spending time at her family's house on Lake Winnipesaukee. She considers the lake to be her special place. She also enjoys hiking with her dog AJ.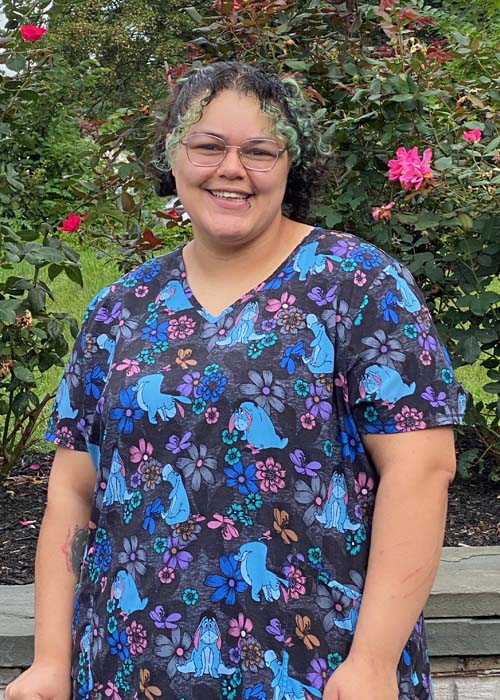 Sophia W.

Veterinary Assistant
Sophia relocated a lot when younger but found her home in the Somerville/Medford area. She shares her home with two snakes named Matilda and Zelda, two dogs named Akeva and Bullet, and four cats.
After attending Somerville High School she went to Unity College in Maine. She has an interest wildlife rehabilitation, and studied wildlife care and education in college.
Sophia likes to go camping in Maine where she enjoys hiking and kayaking. She us currently working with her older dog Akeva to become more comfortable on a kayak, so he can go with her on more camping adventures.
Kaylee D.

Receptionist
Kaylee is from Malden, MA and attended Malden High School. After graduation, she obtained her manicuring license and worked at a nail salon. She has always wanted to work with animals, however, and says that this is the field where she wants to stay for a long time. Growing up she had leopard and crested geckos, and she and her boyfriend even had some ducks.
Kaylee currently lives with her boyfriend and 9-month-old cat named Prince, whom she adopted from a local shelter. In her spare time, she enjoys going for a drive and going on road trips and adventures with her boyfriend.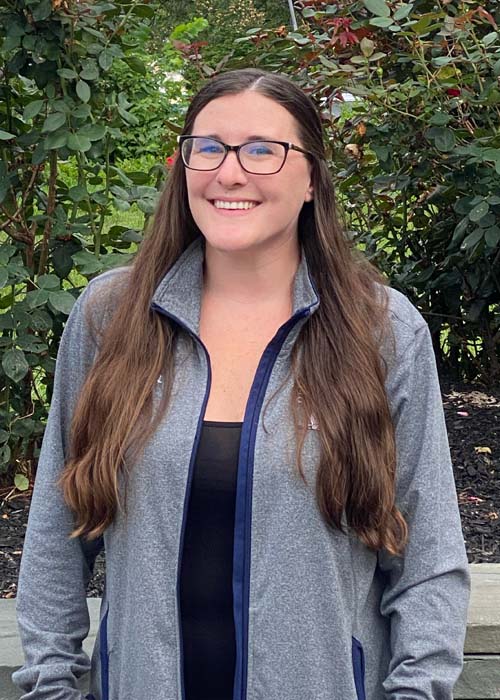 Victoria L.

Receptionist
Victoria grew up in New Hampshire and moved to Massachusetts when she was in middle school. She lives with her boyfriend of ten years. While pets are not allowed where she currently lives, she spends some of her time pet sitting.
Victoria studied for three semesters at U Mass Dartmouth, then worked at a daycare for 13 years. After spending time caring for the pets of her family and friends, she has realized that she would like to care for animals as a career. She has a special interest in animal behavior and dog training.
In her spare time, you will find Victoria curled up with a good suspenseful novel. She also spends much of her spare time with her three year old niece, who will Facetime her to arrange their many outings.
Betty W.

Receptionist
Betty grew up in Everett and then moved to Wilmington where she lives now in a busy home with her extended family. She worked as a medical secretary for 20 years, and has worked for the past eight years in Office Management for an accounting firm. An animal lover, she enjoys her current position as a receptionist at BAC where she can work with both animals and people.
Betty shares her home with Sadie, a 4-year-old Yorkie; Trixie, a 3-year-old mini St. Bernadoodle; Ginger, a 4-year-old Chihuahua mix; three cats named Bella, Fluffy, and Honey; and a tropical fish tank.
In her spare time, you will find Betty on camping trips with family enjoying the scenery.